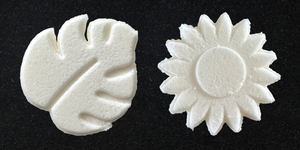 Bath bombs are the perfect treat for the bath lover. These bath bombs will have you in the tub much longer than you originally intended. They are incredibly moisturizing and packed with skin-loving ingredients. You'll come away from your bath feeling totally relaxed, your skin renewed, and your muscles soothed.
Just like all Fig & Fire products, these bath bombs are toxin-free, cruelty-free, phthalate-free, paraben-free, formaldehyde-free, dye-free, and SLS-free. They also include an emulsifier for a non-slip experience post-bath.
Features:
Large, 5 oz. bath bomb 

in the shape of a flower or a leaf

Non-toxic ingredients
Clean fragrances made with essential oils
Skin-loving ingredients: organic unrefined shea butter, organic sunflower seed oil, and therapeutic Epsom salt
Scent options:
Lavender Fields - scent notes: lavender, lemon, cedarwood, bergamot
Rose Garden - scent notes: rose petals, ylang-ylang, lily of the valley
Spa Getaway - scent notes: bergamot, mandarin, white tea, thyme
Zen Garden - scent notes: jasmine, tuberose, gardenia, bamboo
Unscented
Natural, non-toxic, clean fragrances - Scents made with essential oil blends, which not only make the scrub smell amazing but also adds aromatherapeutic benefits.

Vitamin E - A natural and powerful antioxidant that helps protect against UV damage from sun exposure, hydrates the skin and locks in moisture, increases skin elasticity, and fights signs of aging. It helps smooth and soften the skin so it looks and feels healthy and vibrant.

Organic Sunflower Oil - A natural, gentle, and nourishing oil that is rich in antioxidants, vitamins, and fatty acids. The nutrients leave skin feeling hydrated and smooth, balance oil production, enhance collagen production, provide a protective barrier against environmental stressors (helping skin stay clean and free from dirt and toxins), and minimize signs of premature aging while protecting against future damage.

Organic Unrefined Shea Butter - A natural fat known for its anti-inflammatory, healing, and moisturizing properties. It is rich in antioxidants, vitamins, and fatty acids that deeply moisturizes the skin and locks in moisture, clears skin of excess oil and restores the skin's natural balance of oils, boosts collagen production and healthy skin cell growth, and helps soothe irritation.

Organic Cane Sugar - A natural exfoliator that contains glycolic acid and removes dead skin cells from the skin's surface.

Cetyl Alcohol - A vegetable-derived emollient. It moisturizes the skin, keeps the ingredients in the scrub from separating, and gives the scrub a velvety texture.

Glyceryl Stearate & Cetearyl Alcohol & Sodium Stearoyl Lactylate - These ingredients team up to make an all-natural, plant-derived ECO-CERT emulsifier. It moisturizes the skin and gives the scrub a more creamy consistency so it is less harsh on the skin.

Phenoxyethanol & Caprylyl Glycol - Depending on where and how the scrub is used, it may result in moisture contamination. These ingredients team up to safely protect the scrub against microbial growth.